I'm on my way down to D.C. to attend another meeting about cyberinfrastructure, this time with a bent towards metagenomics pipelines. (At least, I'm pretty sure that's why I'm invited. It's getting hard to tell these days.)
Inspired by James Watters' blog post on his "fork you" shirt, I decided to revise my planned presentation a bit to talk more about what I hate so much about most academic software. I'll try to write more later, or at least I'll blog after the workshop, but in the meantime: I give you, The Ladder of Academic Software Reusability and Sustainability.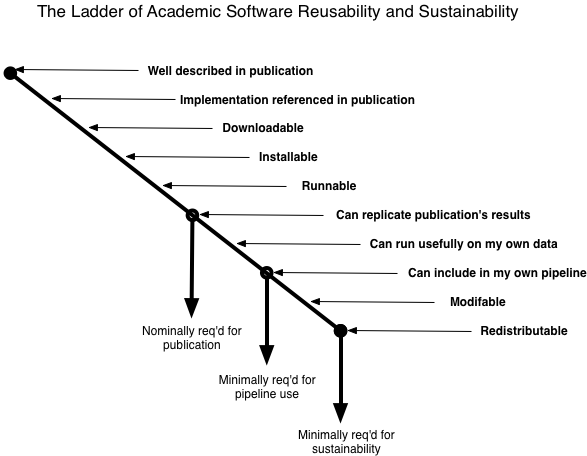 My personal experience with software is that approximately 1/2 of all software drops off at each point, which means only 1 in a 1000 make it to the last point -- and the last point is the first point where the software is really forkable.
Comments, updates, etc. welcome. Also see the OmniGraffle source.
--titus